Beanbag-smart airconditioning supervision
Beanbag-smart airconditioning supervision
With the development of air conditioning control systems. SACOM would like to introduce to you the intelligent monitoring and control device called Beanbag, made by SECURE Group in India. It brings the comfort to users such as energy saving, reducing installation and operating costs, also as the biggest goal of the product.
BEANBAG has many advantages compared to other central control devices, or other intelligent control devices such as air conditioning control - FCU through connecting Bluetooch with remote controll., BEANBAG can automatically adjust the air-conditioning and fan modes to suit the number of people as well as the temperature to avoid some overloaded or inappropriate cases, remote on / off monitoring can be done via Smart Phone, tablet or internet browser.
Benefits of connecting BEANBAG with air conditioner or central controller - FCU:
Unlike BMS (Building Management System) that must connect wires from the FCU to the central computer or building control management system, BEANBAG uses bluetooth to combine the infrared sensor and controls.
The controller is connected to the building's local WiFi network, so there is no need to pull the centralized wire to the central controller and still be able to monitor and control the entire air conditioning system. In addition, it can be controlled via mobile devices with remote network connection. The function of time monitoring, through which the analysis provides a reasonable operating mode, avoids wasting electricity
Typical background on a computer with a network connection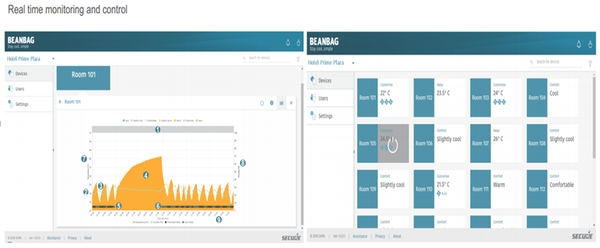 With the desire to bring to our customers superior energy-saving products such as: electrical panel supplies, power meter, Censeo pump monitoring as well as Benbag cool presentation ... SACOM is committed to updating product information as well as the latest solution to customers, it is a pleasure to accompany with customers in upcoming projects.
HCMC, May, 2020
Mr.Dao Duc Thinh- Technical Manager