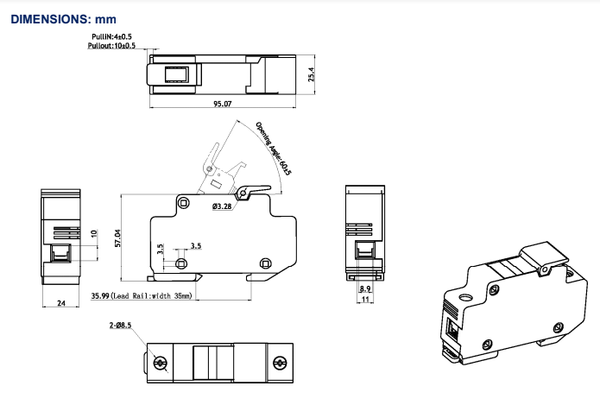 DESCRIPTION:
The BH200 touch safe holder is designed for 14x51mm fuse links, especially for use with photovoltaic equipment.
FEATURES:
ADLER BH200 touch safe fuse holders are designed for all standard 14x51mm PV fuses such as ADLER A74 series. With current ratings up to 30A at 1500V DC, this holder provides the most compact and effective solution to protect 1500 VDC circuits and equipment in photovoltaic applications.
Note: SCCR is limited to the interrupting rating of the installed fuse or 10kA, which ever is less.
SPECIFICATIONS:
Rated Voltage: 1500 VDC
Rated Current: up to 30 A
Short Circuit Current Rating(SCCR): DC 10kA
Standards: UL 4248-18, EN 60947-3
(10 kA@1500 VDC)
Dissipation: 8 W
Material Flammability: UL 94-V0
Mounting: DIN Rail mounting
Wire Range: 5-13 AWG
Operation Temperature: -40°C to +150°C
UL Listed File: E486822