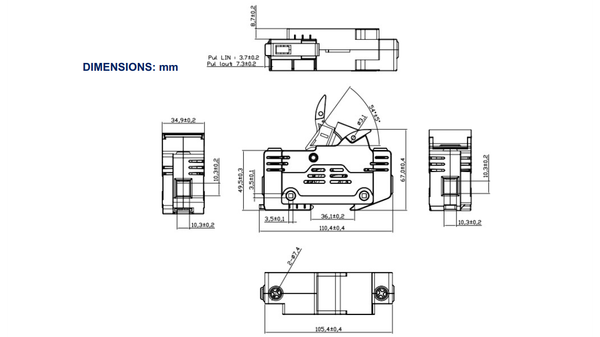 DESCRIPTION:
The BH401 touch safe holder is designed for 22x58 mm fuse link and is equipped with a red indicator light. It will light up when the circuit is interrupted.
FEATURES:
ADLER BH401 touch safe fuse holder is as ADLER A94 series. With current ratings up to 80 A at 1500 VDC, this holder provides the most compact and effective solution to protect 1500 VDC circuits and equipment in photovoltaic applications.
Note: SCCR is limited to the interrupting rating of the installed fuse or 10 kA, which ever is less.
SPECIFICATIONS:
Rated Voltage: 1500 VDC
Rated Current: up to 80 A
Short Circuit Current Rating (SCCR): DC 10 kA
Standards: UL 4248-18 and EN 60947-3
(10 kA at 1500 VDC)
Dissipation: 8 W
Material Flammability: UL 94-V0
Mounting: DIN Rail mounting
Torque: 4 N.m
Wire Range: 1-11 AWG
Operation Temperature: -40 °C to +150 °C