PRODUCT INTRODUCTION ELITE 100/300
First of all, I would like to send my best wishes to customers for health and success.
SACOM JSC would like to sincerely thank the support, trust and companionship of customers and partners who have been using SACOM's products and services for many years.
By this open letter, SACOM JSC would like to introduce to your company Elite 100&300 multifunction meter - Multifunction meter that measures almost all the parameters of the electrical system, and at the same time measures the wave function. harmonics of the system, the screen has additional charts for easy viewing. Can be used in high voltage network up to 2000kV, with modern design, many new improvements integrated, competitive price, quality warranty 24 months. This is a product that helps customers save costs, meeting the general needs of the market.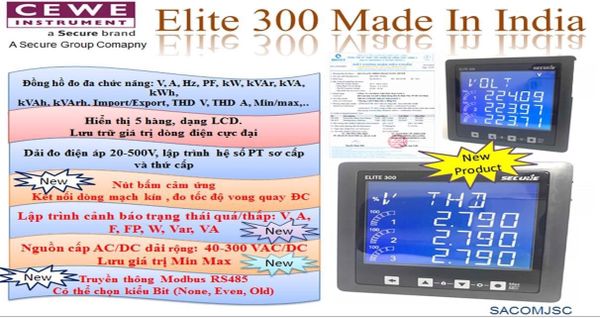 Elite 100&300 multi-function meter is one of the product range of power quality monitoring equipment, measuring equipment for electrical panels of SECURE Group - CEWE, a leading multinational corporation specializing in products. Measure and monitor electrical parameters. The Group currently has 08 manufacturing plants and product research and development facilities in many countries such as Australia, Sweden, UK, India....
For product information, technical advice on Elite 100 & 300 multi-function meter, please contact our sales department or managers at branches for help:
HCM Branch: Hotline Mr.Nguyen Hai-0989 25 1000/ Branch Manager
Hanoi Branch: Hotline Mr.Tran Dang-0902079970/ Deputy Director of Branch
For more information, please refer to the following link: https://drive.google.com/drive/folders/1PZocyRjTDxaR8rqUbXXVrmJAjDkMpgba?usp=sharing
High quality products, with reasonable prices and policies, we are looking forward to receiving your attention, request for quotation and orders.